Guarantee
OnlineCityTickets.com is proud to offer every customer a 100% Buyer Guarantee. The 100% Buyer Guarantee means that your transaction will be safe and secure, the tickets will be delivered prior to the event, the tickets will be identical, comparable, or better than the tickets you ordered, and the tickets will be valid and authentic. If we do not meet these aforementioned standards, we will gladly refund your complete purchase price. Our sellers work closely with venues all over the world to make sure that your event experience is unparalleled.
OnlineCityTickets.com is a safe and secure way to purchase tickets on the web. We are proud to offer this guarantee as we stand behind our outstanding customer service team.
Your satisfaction is our goal. We have provided over one million customers entrance to events across the world. If you are unhappy with your purchase, please contact us immediately at (800) 854-2196 or email support@onlinecitytickets.com.
Ticket Information
Inventory
We are a resale marketplace, not a box office or venue. Ticket prices may exceed face value. This site is not owned by Key Arena.
Guarantee
100% Buyer Guarantee. Tickets are authentic and will arrive before event.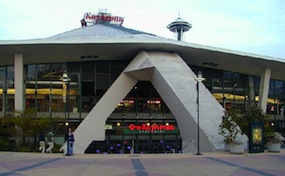 Key Arena
The Key Arena at Seattle Center opened in 1962 on 305 Harrison Street in the 74-acre entertainment complex known as the Seattle Center at a total construction cost of $74.5 million. Key Arena used to be home to the National Basketball Association's Seattle Supersonics before they left for Oklahoma City in 2008. In 2004 a great debate concerning the expansion of the facility was brought to local legislature. The expansion would feature additional dining, shopping, and a practice court. The proposals fizzled from existence later in 2005, and were one of the main reasons for the SuperSonics leaving Seattle.

The Key Arena box office provides a 16,641 seat capacity for most center and end-stage concerts. Key Arena tickets have included such memorable acts as The Beatles, Elvis Presley, David Bowie, Queen, Nirvana, Pearl Jam, and Metallica.

Key.ArenaSeattle.com is not affiliated with any primary box office or supplier. We are a privately owned and operated business specializing in sales in the secondary market. To buy tickets for any KeyArena events in Seattle simply click on the event of interest or call our operators at anytime.